Mother & Baby – The UK's Best-Selling Magazine for Mums
Posted By admin | 02/2/2016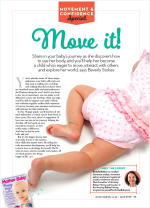 Your Self-Motivated Baby Book has immediately gained international recognition!
Move It! Beverly's 10 page feature article is published in The Movement & Confidence Special in the April issue of Mother & Baby Magazine in the UK.
Have a look at the feature page, HERE and the rest of the article can be found HERE.  Don't delay and read all about "Your Self-Motivated Baby" today!